---
---
No shipping. Local Pickup Only.
Discounted Prices for trailers, boats, and outboards are cash or check.
Credit Cards will be regular price.
Please Call Ahead for availability. 
Pick up at store only!
The brand new Beluga White 6hp Tohatsu outboard motor is the largest single-cylinder model available. The Tohatsu 6 HP model MFS6DWDS is equipped with the 15 inch short shaft and integral tank with an external connector.  The new MFS6DWDS also comes equipped with the newly designed top and bottom cowls based on Tohatsu Design Philosophy for Marine Products, 3-way storage positions without worrying about oil spill, ultra-low emission, EPA and CARB 3-Star rating approved, and the newly designed Tohatsu unique front and back carrying handles for easier transportation. If you're in search of lightweight portable power, the 6hp Tohatsu outboard is an excellent choice for a variety of small craft as well auxiliary power for sailboats and trolling/kicker power for larger fishing boats. Whether you're cruising the harbor, fishing inland waterways, or exploring the great outdoors the lightweight Tohatsu 6hp outboard engine offers boaters reliable portable power at a price you can afford.
*Now in Beluga White only.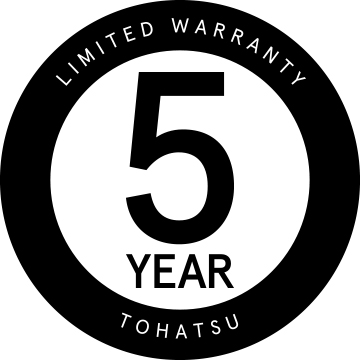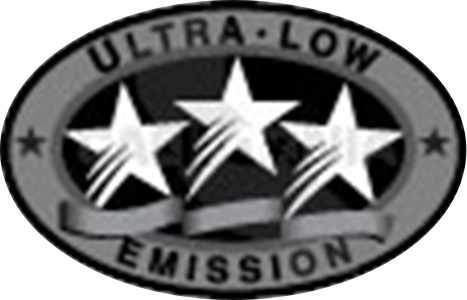 Newly redesigned "D" Model
Advanced Digital CD Ignition System
Low Oil Pressure Warning Indicator
ESG Over Rev RPM Limiter
High Grade Marine Alloy Construction
Stainless Steel Water Pump Housing
Zinc Coated Water Passages
Saltwater Rated
Sacrificial Zinc Anodes
Adjustable Steering Friction Setting
Forward Mounted Gear Shift Selector
Twist-Grip Throttle with Tension Control
Integrated Carrying Handle
Start-In-Gear Protection
Thermostatically Controlled Cooling
Advanced Cross Flow Induction System
Shallow Water Drive; 6 Trim Positions
Quiet Through-The-Propeller Exhaust
1.15 Liter (.3 Gallon) Integral Fuel Tank
Safety Lanyard Cut-Off Switch
External Fuel Tank Connector
Operating Manual & Emergency Tool Kit
Tohatsu 5-Year Warranty
| | |
| --- | --- |
| MODEL | MFS6DWDS |
| MODEL YEAR | 2022 |
| SKU | MFS6DWDS-22 |
| WEIGHT | 58.0 lb |
| MANUFACTURER | Tohatsu |
| COUNTRY OF MANUFACTURE | Japan |
| HORSEPOWER | 6hp |
| SHAFT LENGTH | 15" (Short) |
| STEERING | Tiller |
| STARTING | Manual |
| TRIM & TILT | Manual |
| FUEL DELIVERY | Carburetor |
| FUEL TANK | Internal |
| CYLINDER(S) | 1 |
| DISPLACEMENT | 123 cc (7.5 cubic inches) |
| BORE AND STROKE | 59 x 45 mm (2.32 x 1.77 inches) |
| FULL THROTTLE RPM RANGE | 5,000-6,000 RPM |
| IGNITION SYSTEM | Digital CD Ignition |
| INDUCTION SCAVENGING | OHV |
| VALVES PER CYLINDER | 2 |
| FUEL TYPE | Unleaded Gasoline (87 octane) |
| FUEL TANK / FUEL LINE | .3 US Gallon (1.15 Liter) Integral Fuel Tank |
| OIL TYPE | SAE 10W-30 or SAE 10W-40 (SF, SG, SH, SJ) |
| OIL CAPACITY | 15 fl. oz. (450 ml) |
| LUBRICATION | Wet Sump |
| ALTERNATOR | Optional 12V 60W 5A (installation required) |
| COOLING SYSTEM | Water-Cooled, Thermostatically Controlled |
| SALTWATER RATED | Yes |
| GEAR RATIO | 2.15:1 |
| GEAR SHIFT | Forward-Neutral-Reverse (front mount shifter) |
| PROPELLER | 7.7" Dia. X 8.0" Pitch 3-Blade Aluminum |
In The Box
Integral Fuel Tank (0.3 gal)
Aluminum Propeller
Owner's Manual & Tool Kit
Tohatsu 5-Year Warranty
---